WHAT THE KRONOS SLOT GAME IS ALL ABOUT
The legends of Greek mythology inspired countless stories, movies, songs, and slot machines. Slot fans worldwide love the magical feeling created by slots based on the tales of Greek gods. If you've always wanted to reach the top of Mount Olympus, hang out with Zeus and his fellow gods, and experience greatness first-hand, Kronos is a slot that will capture your attention immediately.
This classic slot is based on the story of Kronos, who led the Titans and was the father of the king of gods, Zeus. For years now, Kronos has been a leading slot machine from the legendary house of WMS. The collaboration with SciPlay brought this top slot to mobile gamers and opened the door to hours of fun and rewards. This slot is part of the Greek mythology slot family, which includes other slots like Great Zeus, Zeus II, Kronos: Father of Zeus, Kronos Unleashed, Zeus Unleashed, and more. 
Another thing the slot excels at is the authentic casino experience that many players would recognize from their visits to Las Vegas and other entertainment centers. The game stays true to the original titles and gives a live feeling every step of the way. Being able to hit the subtle balance between advanced mobile capabilities and a familiar casino experience isn't easy, but Kronos is one slot machine that manages to do so well.
There's more fun to be had! Make sure to check out all our other slot games.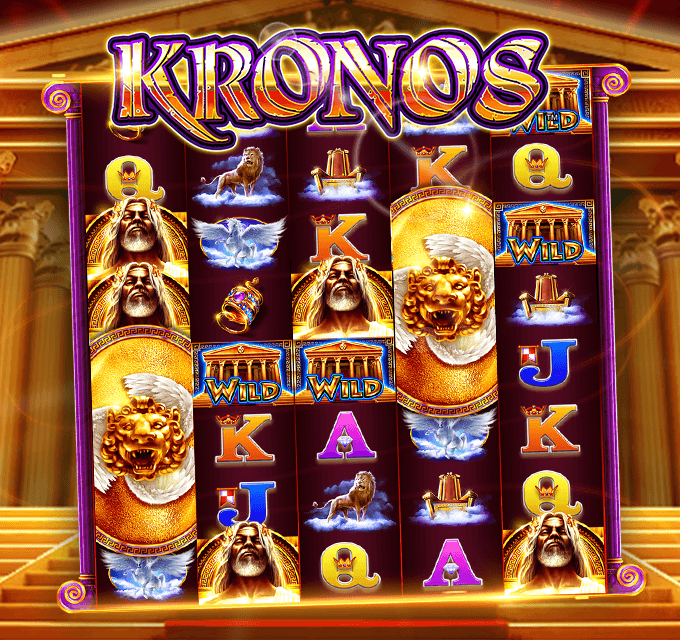 HOW TO PLAY KRONOS™ SLOTS
5
CHOOSE "MAX BET" TO QUALIFY FOR JACKPOT
Getting to Know the Pay Tables of Kronos
With 20 paylines, a Return to Player (RTP) rate of almost 96%, and lots of great prizes, the payout of Kronos is one of its greatest advantages. Some prizes grant players 750X their initial bet. Players can risk up to 60 coins per round, and win amounts that start at 0.01 and reach the maximum reward of 2,250 coins.

KRONOS BONUSES AND SPECIAL FEATURES
The Rules & Reels of Kronos 
The basic rules of the game are straightforward and familiar, with players placing their bet and spinning the reels. The game includes several symbols that form winning combinations, giving players plenty of options to reach significant rewards. These symbols include images like Kronos, his throne, a temple, Pegasus the mythical winged horse, a deck of cards, and more. 
The wild symbol of this game is the lion's head, which can substitute any other symbol in the game to complete a winning combination and grant amazing rewards. These symbols must appear on reels 2,3, or 4. We've also mentioned the power of gold medallions in the game, leading to the Free Spins bonus players adore. 
The symbols not only add to the game's surprising nature but also to its theme. Every symbol is related to the Greek mythology world, giving a sense of a visit to the Acropolis, surrounded by gods. 
Overall, these symbols and bonuses make sure that Kronos remains an exciting, unstoppable game. With so many winning options, it's no wonder that the game maintains its leading position among slot fans throughout the years. Start playing and you'll see what we mean. 
Want to Start Playing Kronos
As the mobile casino gaming arena advances, it's amazing to see that some games still ask players to jump through hoops before spinning slots. This isn't the case when it comes to Kronos, because this game doesn't demand any prior steps like download or registration. 
Players who want to start spinning Kronos and winning rewards only have to tap the game to get started. This fun escape is always available and never requires redundant actions like setting up a player profile or registering online. If this article has managed to convince you that Kronos is a slot machine you'd find entertaining, go ahead and start spinning right now!