INVADERS FROM THE PLANET MOOLAH™ SLOT MACHINE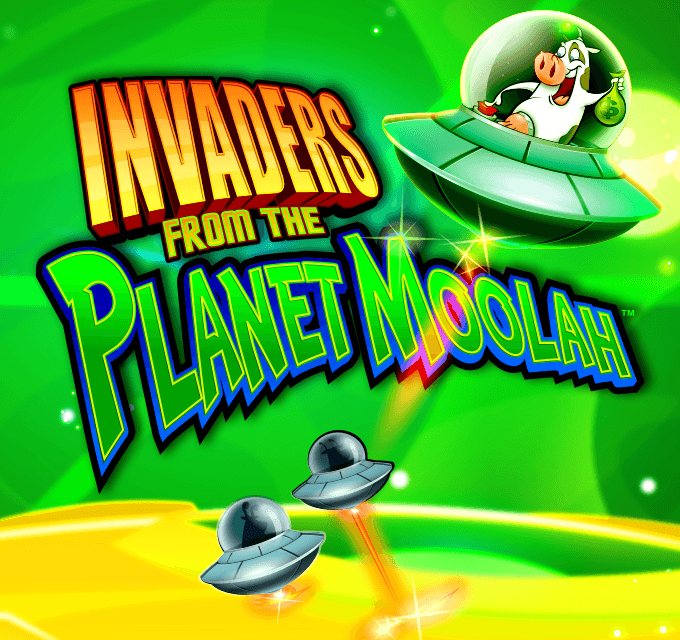 GETTING TO KNOW THE PAY TABLES OF INVADERS FROM THE PLANET MOOLAH
This game takes slots fun to another planet! The alien-themed Planet Moolah Vegas slot of planet Moolah has become an iconic game for good reasons. The game includes the popular Cascading Reels feature and is based on a narrative of an Earth invasion by aliens and abducted cows! Sounds fun? Because the cascading reels slot really is! 
This is the perfect game for fun-loving slot fans who want their favorite video slot machine to have a healthy sense of humor. If you love slots but don't take yourself too seriously, you'll appreciate the cow-alien-themed slot and its unique charm.  
But don't think for a second that the lighthearted nature of Invaders from the Planet Moolah® means that it is not a focused, bonus-packed slot. The game is full of surprises and rewards, keeping players on their toes the whole time. The game is also wrapped in beautiful graphics and animation, giving it an extra layer of entertainment. With a top Jackpot worth thousands of coins, this is a slot you do not want to skip. 
There's more fun to be had! Make sure to check out all our other slot games.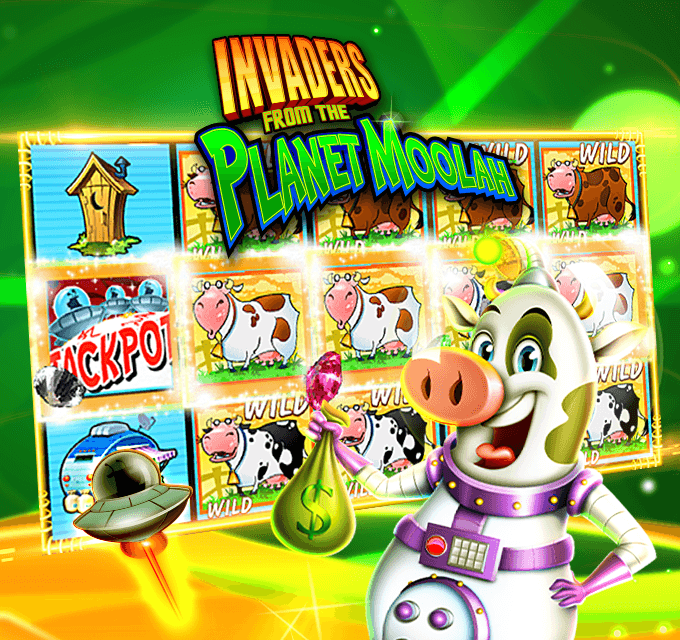 HOW TO PLAY INVADERS FROM THE PLANET MOOLAH™ SLOTS
5
CHOOSE "MAX BET" TO QUALIFY FOR JACKPOT
GETTING TO KNOW THE PAY TABLES OF INVADERS FROM THE PLANET MOOLAH
It pays to play this game! The slot has a secret sauce which is the cascading reels feature, adding more winning potential, as well as a lot of thrill. Players often state that this is a feature they particularly appreciate.
The game features 25 paylines with funny cow symbols. Speaking of symbols, those tend to appear and disappear thanks to the cascading reels, giving players more chances of winning the game and boosting the excitement level at the same time. The game never stays the same and continues to shift and progress. This is a unique capability that makes it extra fun but also very rewarding to spin. 
Invaders from the Planet Moolah Bonuses and Special Features:
THE RULES & REELS OF INVADERS FROM THE PLANET MOOLAH
Players should pay attention to the following symbols in the game: 
Want to Start Playing Invaders from the Planet Moolah?

If you want to spin the Invaders from the Planet Moolah® slot machine, go right ahead! This slot machine does not require any preparation on your end. The game is easy and extremely fun to play, bonuses flow your way effortlessly, and you don't need to download or register!

SciPlay's gaming philosophy is to make slot machines spinning and winning as user-friendly as possible. Players love the fact that slot machine games by the leading company are available without the need for app downloading, profile setting, or any other tedious actions. Just spin, win, repeat.